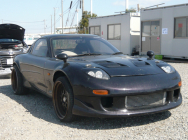 Chassis Number
FD3S-10xxxx
Stock ID: ACJ-192338
FOB Price:
ASK
ASK
INQUIRY
---
Businesses and Japanese Cars For Sale in Germany: A Perfect Partnership
Those companies who are reaching their target market by being actively mobile (in the vehicular sense), know how important it is to have a company or business car that matches their needs and business identity. Japanese cars for sale in Germany can meet the challenge of the daily work head-on and without a fuss. There are indeed hundreds of options out there if you're tasked to choose a car for your business; we're here to narrow that down to those made in Japan. Your business and a Japan-made vehicle will make a perfect pair, and here's why.
Reliability
Just as your customers rely on you to render the best service so should you also expect the best performance from your car? If you are doing your best not to be sick just so you can go to work and finish your daily tasks, so should your car be healthy and fit, meaning no sudden breakdowns. A trip to the doctor can cost you a day of work (and a lot of expenses); your car's trip to the mechanic can also cost you a day or more of halted office operations and precious savings. This is why it's important to have a sturdy car that won't break down, is easy to maintain, is inexpensive to repair (and repair only when necessary), and one that will chug along as long as it can, even beyond its lifespan.
Japanese cars for sale in Germany are known to be the most reliable cars. In fact, in a Car Reliability Survey conducted by Consumer Reports, the automotive brands that received the highest scores were those from Japan: Scion, Toyota, and Lexus. The other brands that were deemed to be among the most reliable were Honda, Mazda, Subaru, Acura, and Infiniti, Nissan's luxury brand. These brands beat out those from the United States, Europe, Korea, and China yes, evens the luxury brands! So if you want a car you and your business can always depend on; you know which brands to choose from.
Fuel Efficiency and Mileage
Profit is one important aspect of your business, for who can stay in business without profit? What can a company car do to increase profit? Well, a company car can be a good asset (instead of a liability) if it not only performs well but also doesn't use up too many resources. Fuel-efficient Japanese cars for sale in Germany achieve high gas mileage so this means you won't have to go for refills every few miles you get the most out of the gas or diesel you buy. This saves you money, and it also saves the environment because fuel efficiency also means less harmful emissions of carbon dioxide. Cars for sale in Germany from Japan are rated as having the best in mileage over their foreign competitors.
This is easily seen in how the Japanese are striving to continuously improve hybrid car technology. By using both electricity and gas to power up cars, fuel use is cut by almost fifty percent, decreasing the amount of fuel usage and reducing the number of carbon emissions. More and more eco-friendly cars are joining the lineup of hybrid vehicles from Japan. These are always a plus, and your eco-conscious customers would appreciate it, too.
The reliability and fuel efficiency of vehicles are qualities you should consider when choosing a car for business. To make the most out of your money, getting a Japanese car for sale in Germany is the best business decision you can make.