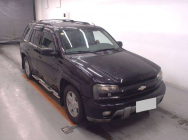 Chassis Number
1GNDT135362-23xxxx
Stock ID: ACJ-172758
FOB Price:
$ 4,100
$ ASK
INQUIRY
---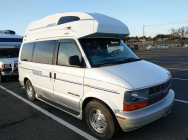 Chassis Number
CL1-20xxxx
Stock ID: ACJ-159593
FOB Price:
ASK
ASK
INQUIRY
---
There Is a Used Chevrolet Cars For Sale in Japan At Best Price Built for You
Introduction
Chevrolet is the leading brand of the United States-based company General Motors (GM). GM is an internationally recognized brand that sells Chevrolet vehicles as the volume leading line of its numerous automobile manufacturers. Swiss automotive engineer Louis Chevrolet founded the company in 1911. He was also a racecar driver and automobile enthusiast.
Variety of Vehicles
Off the racetrack, the company offers nearly 20 different vehicles. These range from two and four-door sedans, hybrids, fully electric vehicles, performance sports cars, SUVs, and crossovers, as well as their world-renowned trucks and vans. The truck series has been one of the most popular and bestselling series in the company's stock for years. They have consistently offered high-quality vehicles for both individual and commercial use with affordable parts and maintenance.
Classic And New Models
The Chevy line of cars includes classics and new models from all segments of the market. There are many options: the compact Cobalt, the subcompact Cruze and the full-size Silverado. You can also choose the Corvette ZR1 sports car. No matter your personal preferences or needs, there's a Chevrolet to suit your needs and budget. Here are some of our favorite Chevrolets. Used Chevy cars for sale in Japan dealers can help you find the right deal for your budget if you are looking to buy a vehicle.
Advanced Technology
As technologies have advanced the car's interior has improved to accommodate for comfort in tandem with raw speed. Regardless of the model or style, Chevy has remained one of the automotive leaders worldwide. Its reach within international markets rivals any of its competitors. The brand has focused on numerous marketing campaigns on nearly every continent with moderate to major success.
Variety of Models
The brand's reputation has been under fire for years. Recently, the carmaker has been promoting a variety of Chevrolet models in commercials. This campaign has helped the brand gain global recognition. In the U.S., the Chevrolet Volt, the Spark, the Sonic, and the Corvette Stingray were among the most popular models. The "Find New Roads" commercial was broadcast during the Grammy Awards. However, this did not mean that the cars were the only ones made by the company.
Buy From Dealers
If you are looking for a used car, you may want to consider looking for used Chevrolet cars for sale in Japan at the best price. There are many great options in the Chevrolet lineup, so you are sure to find something that will meet your needs, as well as make you excited. It can be very enjoyable to get a car, and sometimes you need to just treat yourself to something special. No matter what type of car you are looking for, Chevrolet makes something that will be a good fit for you. If you are serious about buying a used vehicle, visit the Auto Craft Japan website to buy used Chevrolet cars for sale in Japan at a good price.
Economical
If you are looking for an economy car, then you may want to consider a Chevrolet Spark or Sonic. These cars are a great value and will continue to pad your pocketbook through their efficient mpg. If you are looking for a car to take you to work and back affordably, these models may be the answer.
Family Vehicles
If you are looking for a crossover in the Chevrolet lineup, you may want to look at one of the Traverse or Tahoe models. These vehicles offer you great versatility, mixed with luxury and capability. If you have a family, or if you need to haul people as well as more cargo, these models may be a good option for you. If you are looking for a large SUV, then consider the Chevrolet Suburban. It is a very capable machine and can handle a wide variety of terrain and environments.
Pickup Truck
If you're looking for a pickup truck that can haul and pull large loads, then you may want to look into the Colorado, Avalanche, or Silverado models. Used Chevrolet cars for sale in Japan have long been known for a comfortable ride, as well as a powerful and capable pickup truck. If you are interested in buying a used pickup truck, visit Auto Craft Japan to buy used Chevrolet cars for sale in Japan at the best price.
Chevrolet Best Models