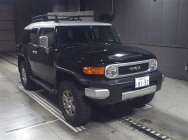 Chassis Number
JTEBU11F3700-1xxxx
Stock ID: ACJ-186401
Sale Price:
$ 16,850
INQUIRY
---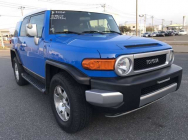 Chassis Number
JTEBU11F-17005xxxx
Stock ID: ACJ-161688
FOB Price:
ASK
ASK
INQUIRY
---
Used Toyota Fj Cruiser Cars For Sale In Japan At Best Price: Classy, Compact, And Competent
Used Toyota FJ Cruiser for sale in Japan is the best on and off-road companion for adventure seekers. This midsized SUV in retro styling made its public debut in 2003 as a concept car. Soon after the launch it gained popularity among the masses and proved to be the triumph card for the sales success of the brand.
Since the launch state of art designing, premium interior, and also advanced technologies are lined up to make it work as an efficient workhorse. It is one of those adventure-ready workhorses that promise to deliver a combination of excitement and capability at a reasonable price range. Used Toyota Fj Cruiser for sale in Japan at the best price is a rugged, reliable, ergonomically designed comfortable, and capable workhorse that is very exciting for the buyers on board.
Power And Performance
Under the hood power configurations and a powerful engine is lined up to make it quickly maneuverable on road. The 4.0-liter v6 engine producing a decent torque output, tall boxy shape with the combination of the soft off-road suspension, and big tires are ensuring great performance efficiency. Due to its adequate size, powerful engine, and five-speed automatic transmission the vehicle promises to deliver an incredibly adequate mileage which is 16 mpg in the city and 20 mpg on the highway.
State Of The Art Styling
It is a very old school car under the brand cachet of Toyota. But, Toyota engineers with great emphasis on ensuring efficient mobility offered a whole new world of high-tech amenities, retro styling with plenty of space and attractive off-road capability have made it just exceptional. The large and big boot area of the automobile can consume a large quantity of travel luggage. Whereas the squares shape configurations have ample space to seat passengers in an extremely comfortable and soothing environment.
Advanced Technologies
Used Toyota Fj Cruiser for sale in Japan is an extremely safest off-road vehicle in its class. Under the hood, power configurations consist of a lengthy listing of safety amenities. Toyota star safety system is standard on this unique off-road motoring legend. This safety suite includes features like vehicle stability control, traction control, an anti-lock brake system, and the brake assist as standard. It is incredibly safe and reliable for off-road use. Other than the use of top-quality material and ergonomically made format, great resale value as well as a decent warranty allows it to last longer.
Comfortable Interior
The Toyota FJ Cruiser is an excellent option for off-road fanatics. Retro styling, ergonomically designed interior layout can seat up to five passengers in an extremely comfortable environment. Comfy seats made up of water-resistant fabric makes it all road and all-weather pleasant commuting opinion. Plenty of space for headroom and legroom, great outward visibility, and the use of a rearview camera inside the car are available to ensure easy mobility. There are features like six-speaker stereo, satellite radio, USB, and Bluetooth connectivity to ensure thrill and excitement throughout the journey.
Used Toyota Fj Cruiser for sale in Japan at the best price is an incredibly adequate choice for people seeking on-road competence, outward visibility, level of comfort, or off-road mobility.
Toyota FJ Cruiser Best Year Variations